Welcome
To the ultimate
charter experience onboard
luxurious 130' Christensen
Motoryacht Sweet Escape.
TAKE THE VACATION OF A LIFETIME ONBOARD 130' CHRISTENSEN MOTORYACHT SWEET ESCAPE
MANY GET AWAY. FEW TRULY ESCAPE. LOSE YOURSELF IN SEAMLESS ELEGANCE AND THE TRANQUIL RHYTHMS OF THE SEA AS YOU SAVOR THE ULTIMATE CHARTER EXPERIENCE ONBOARD THE LUXURIOUS-130-FOOT-CHRISTENSEN MOTOR YACHT SWEET ESCAPE.
Chartering Sweet Escape is different from any other vacation you have ever had, afloat or ashore. With all the amenities of a five-star hotel, the culinary delights of a Michelin-starred restaurant and 7–8 specialized crew solely dedicated to helping you enjoy the waterborne experiences of your dreams, Sweet Escape delivers the most exclusive and personalized style of vacation on earth, with every last detail customized to please you, and you exclusively. Quite simply, on board Sweet Escape, the possibilities are endless.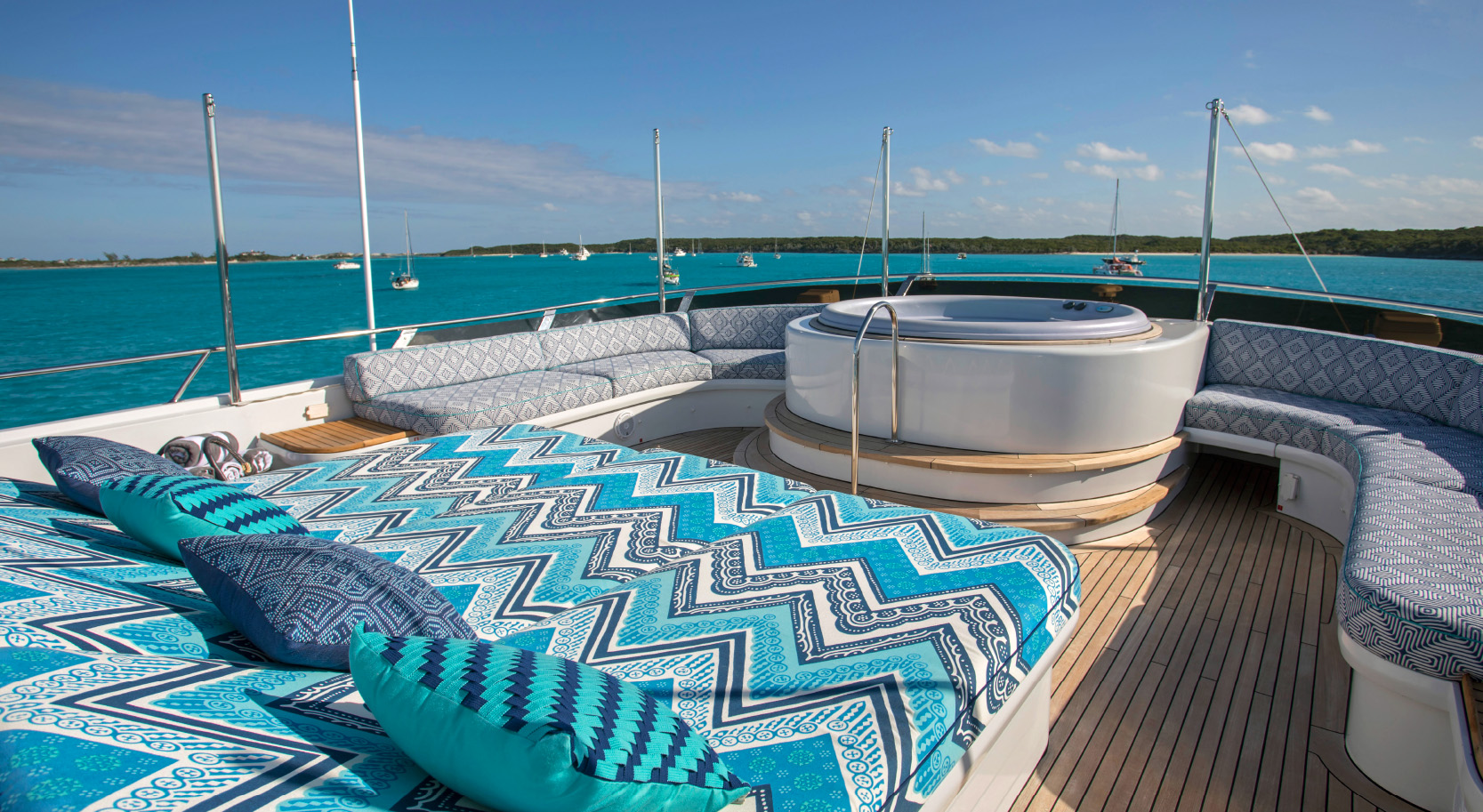 Invigorate the body. Liberate the soul. Rush into adventure.
TRULY MEMORABLE MOMENTS COME AROUND LESS OFTEN THAN THEY SHOULD. YOUR CHARTER ON BOARD SWEET ESCAPE IS EXACTLY THAT—AN ESCAPE FROM THE DAY-TO-DAY ROUTINE, A CHANCE TO MAKE MEMORIES OF A LIFETIME.
No matter how you prefer to relax, Sweet Escape offers an incredible array of options and amenities to enhance your charter experience. Your broker will work to ensure that every single detail is tailored for you and your guests, from the chef's menu to the yacht's itinerary. From sunpads to sundowners, enjoy the company of your friends and family in a variety of exquisite indoor and outdoor living areas, relax in uninterrupted peace, open up the toy chest for an afternoon of watersports, or use our arsenal of tenders and personal watercraft to go ashore. On board Sweet Escape, you decide what to do and where to go, and at your own pace.
A Sweet Itinerary Awaits
OFFERING VERSATILE ITINERARIES THROUGH THE 700 ISLANDS OF THE BAHAMAS, BVI's AND BEYOND, SWEET ESCAPE IS YOUR GATEWAY TO WORLD-CLASS CRUISING DESTINATIONS.
Perhaps the world's most popular destination for year-round charter, the Bahamas offers everything a sun-worshipping charter guest can imagine, including a wealth of easygoing options for first-timers. From the 365 vibrant islands and tiny cays of the Exumas, with white-sand beaches, crystalline waters and untouched reefs, to the beautifully rugged Abacos, with legendary fishing, island-hopping and distinctive local charm, the list of once-in-a-lifetime memories to be made is limitless. Bask on a white-sand beach all to yourself, pet the famous pigs, feed the iguanas, swim with friendly nurse sharks, dine on fresh lobster caught right underneath the boat—whatever you fancy, on a personalized Sweet Escape itinerary, the world is your oyster.
Sweet Escape Brochure
DOWNLOAD THE SWEET ESCAPE BROCHURE AND LEARN MORE ABOUT ALL THIS 130-FOOT CHRISTENSEN MOTORYACHT HAS TO OFFER.
Sweet Escape's 20-page brochure features a collection of high-end photography to help you visualize the ultimate charter experience. Download the brochure in PDF format or view the interactive brochure online.
Sweet Escape Charter Videos
TAKE A VIDEO TOUR ON BOARD THE 130-FOOT CHRISTENSEN MOTORYACHT SWEET ESCAPE AND DISCOVER THE MATCHLESS LUXURY OF THIS SPECTACULAR YACHT AND THE INCREDIBLE ADVENTURES IN STORE FOR YOU.